Web design encompasses many different skills and disciplines in the production and maintenance of websites.
The different areas of web design include web graphic design; interface design; authoring, including standardized code and proprietary software; user experience design; and search engine optimization. Often many individuals will work in teams covering different aspects of the design process, although some designers will cover them all. The term web design is normally used to describe the design process relating to the front-end (client side) design of a website including writing mark up. Web design partially overlaps web engineering in the broader scope of web development. Web designers are expected to have an awareness of usability and if their role involves creating mark up then they are also expected to be up to date with web accessibility guidelines.
The mobile Web refers to browser-based Internet services accessed from handheld mobile devices, such as smartphones or feature phones, through a mobile or other wireless network.
The distinction between mobile Web applications and native applications is anticipated to become increasingly blurred, as mobile browsers gain direct access to the hardware of mobile devices (including accelerometers and GPS chips), and the speed and abilities of browser-based applications improve. Persistent storage and access to sophisticated user interface graphics functions may further reduce the need for the development of platform-specific native applications.
HTML, PHP, CSS, WordPress, Dreamweaver, Photoshop
• HTML, Script, CSS, Meta Code Tags, Keywording
• WordPress, Dreamweaver, Photoshop
• Google XML sitemap, site verification coding
• Google-bot meta script call outs for Robot Spider Bots.
• Meta Key wording Tags, Hierarchy and Zombie Bot Maker Coding.
• Images Optimized for Maximum Load Speeds
• Web Compliant, Browser Friendly for Safari, Modzilla, Explorer
• Front-end / Back-end Web Site Development
• Web Mobile Site Creation. Google Compliant
• Read / Write, Hand Code HTML, CSS, PHP, Script
• Photoshop, Dreamweaver, Flash, Illustrator
• Notepad, FrontPage, Homesite, Dreamweaver
• Word Press, Go Daddy Web Site Creator, 1&1 Web Site Creator
• HTML / Image email creations
• MySQL / MSSQL Databases
• PHP, HTML, ASP.NET, CSS, JavaScript and jQuery
• Ability to resolve cross-browser compatibility issues
• Experience developing for mobile environments
• User-first philosophy for UI/UX design
• Fully functional HTML5 and CSS
Recent Website Design Development & Mobile
Click on Images to View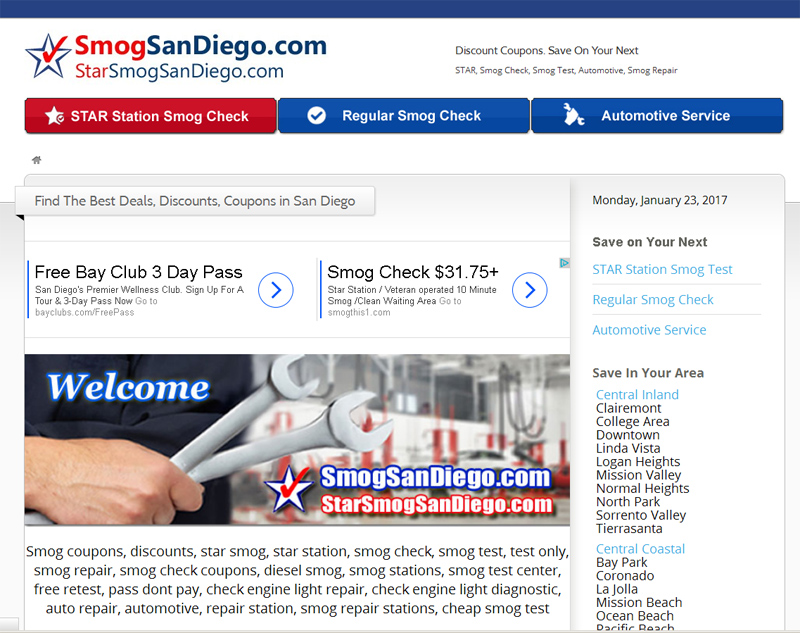 Use: WordPress, Photoshop
Promote Smog Check and Automotive with Coupons
Paid Campaigns with Google, Yahoo, MSN, Craigslist, Facebook
Organic Search Top Placement on Google and Yahoo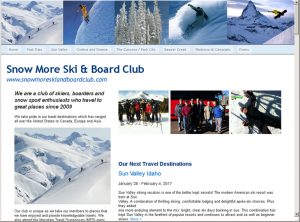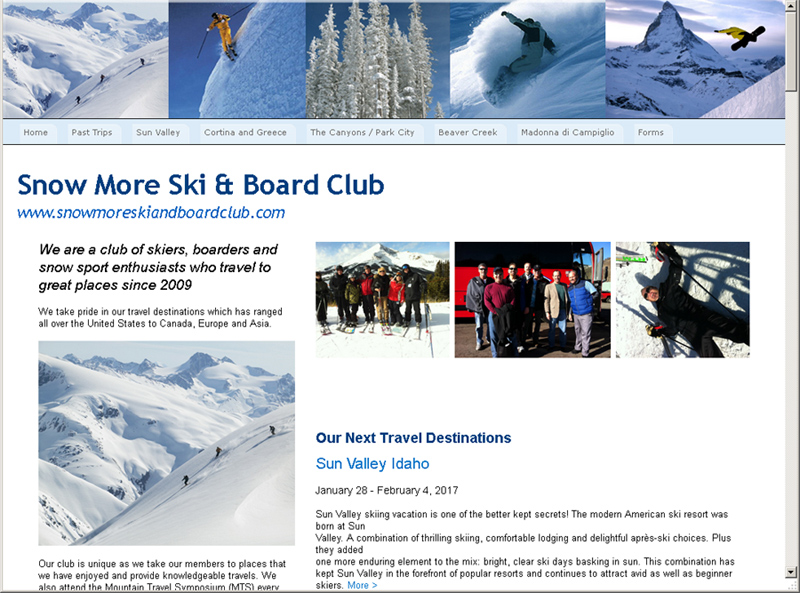 http://snowmoreskiandboardclub.com/
Snow Boarding and Skiing Club. Event Information
Use: Godaddy, Photoshop
Organic Search Placement on Google and Yahoo
Paid Campaigns with Google, Yahoo, MSN, Craigslist, Facebook
Search on Facebook, Instagram.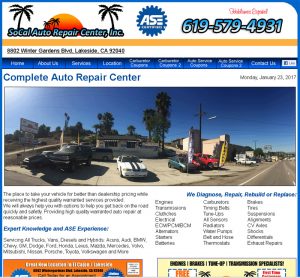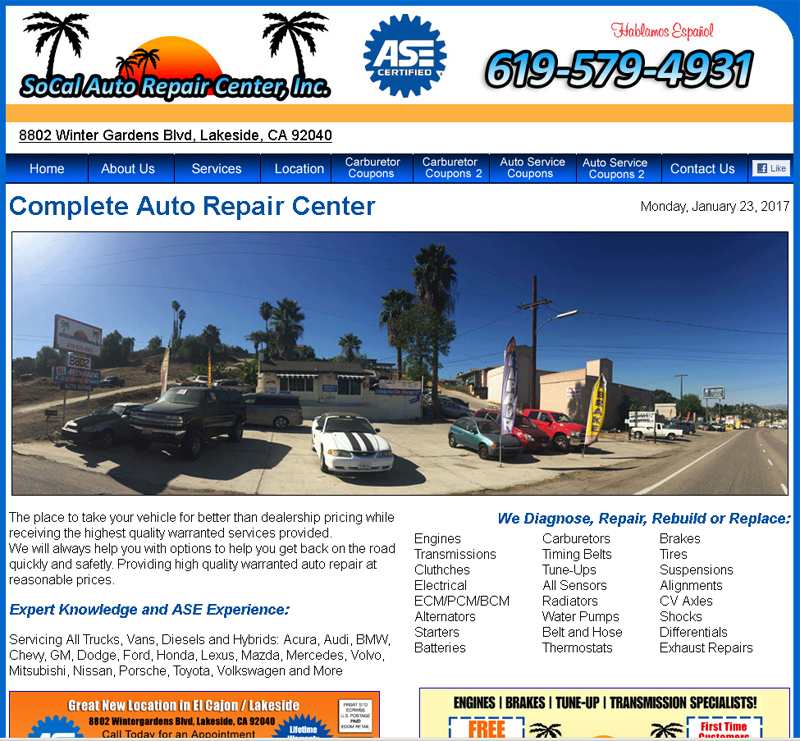 http://socalautorepaircenter.com
Use: Dreamweaver, HTML, CSS, Photoshop
Promote Smog Check and Automotive with Coupons
Organic Search Placement on Google and Yahoo
Paid Campaigns with Google, Yahoo, MSN, Craigslist, Facebook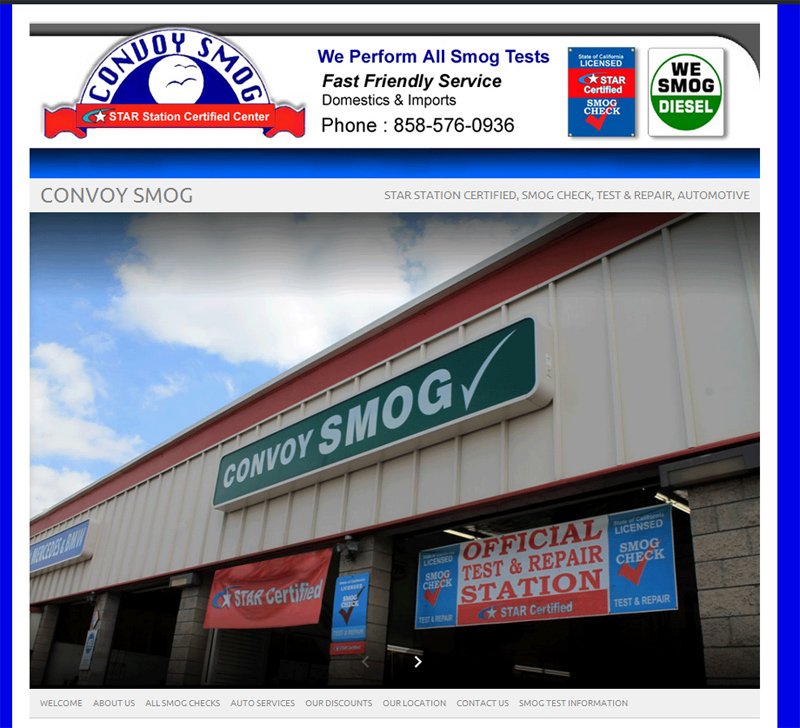 Use: Dreamweaver, HTML, CSS, Photoshop
Promote Smog Check and Automotive with Coupons
Organic Search Placement on Google and Yahoo
Paid Campaigns with Google, Yahoo, MSN, Craigslist
Search Engine Optimization / SEO

Script Coding, Meta Tagging, Keyword, Image Alt Tagging
Domain Submitting to Major Search Engines
Domain Name Support. Setup, Redirection
Hosting Setup and Support
Search Engine Marketing / SEM

Google Adwords. Campaigns, Ads Placement
Max Search Optimization. Lowest Cost Pay Per Click
Google Local Business Maps Optimization

Social Media Marketing / SMM

Social Media Link and Fan Base Link Building
Demographic Optimization Advertising
Data Analytics and Advertising Analytics
Website &
Mobile
Design

HTML, CSS, PHP, Java Script
WordPress, Dreamweaver, Photoshop
Graphic Design
Photoshop, Illustrator
File Setup and Preparation
Online Banner Ad Designs
Brochures, Catalogs, Fliers, Postcards
Animated Gifs and Flash Graphics
Trade Show Display Graphics

Product Development, Design, Production

Rendering, Drawing, Drafting

Wiring Diagrams, 3D Display

Photography and Video

Large Format Printing

Color Management
Need Help? Always Ready to Assist
Please Use the Contact Form Below
web design, web developer, web development, search engine optimization, seo, seo expert, cheap seo, graphic design, xhtml, flash, CSS, dreamweaver, css, web dev, search optimization, San Diego, California, graphics, graphic design, large format, printing, photoshop, illustrator, acrobat, dreamweaver, information technology, software training, seo, sem, web design, search optimization, web designer, web design, seo san diego, sem san diego, web design san diego, search optimization san diego, web designer san diego, web design san diego, web design 92066, web design 92086, web design 92008, web design 92101, web design 92102, web design 92103, web design 92104, web design 92105, web design 92106, web design 92107, web design 92108, web design 92110, web design 92111, web design 92112, web design 92114, web design 92021, web design 92021, web design 92026, web design 92029, web design 92008, web design 92009, web design 92102, web design 92103, web design 92104, web design 92105, web design 92106, web design 92107, web design 92108, web design 92109, web design 92110, web design 92111, web design 92112, web design 92013, web design 92114, web design 92115, web design 91917, web design 92018, web design 92019, web design 91920, web design 91921, web design 92022, web design 92090, web design 92023, web design 92024, web design 92025, web design 92026, web design 92027, web design 92029, web design 92030, web design 92033, web design 92046, web design 92028, web design 92088, web design 92037, web design 92039, web design 91941, web design 91944, web design 92040, web design 91945, web design 91946, web design 92145, web design 92049, web design 91950, web design 92051, web design 92052, web design 92054, web design 92058, web design 92109, web design 92059, web design 91962, web design 91963, web design 91990, web design 92065, web design 92128, web design 92075, web design 91976, web design 92082, web design 92083, web design 92085, web design 92086, web design 92066, web design 92086, web design 92101, web design 92021, web design 92029, web design 92178, web design 92092, web design 92093, web design 92111, seo 92066, seo 92086, seo 92008, seo 92101, seo 92102, seo 92103, seo 92104, seo 92105, seo 92106, seo 92107, seo 92108, seo 92110, seo 92111, seo 92112, seo 92114, seo 92021, seo 92021, seo 92026, seo 92029, seo 92008, seo 92009, seo 92102, seo 92103, seo 92104, seo 92105, seo 92106, seo 92107, seo 92108, seo 92109, seo 92110, seo 92111, seo 92112, seo 92013, seo 92114, seo 92115, seo 91917, seo 92018, seo 92019, seo 91920, seo 91921, seo 92022, seo 92090, seo 92023, seo 92024, seo 92025, seo 92026, seo 92027, seo 92029, seo 92030, seo 92033, seo 92046, seo 92028, seo 92088, seo 92037, seo 92039, seo 91941, seo 91944, seo 92040, seo 91945, seo 91946, seo 92145, seo 92049, seo 91950, seo 92051, seo 92052, seo 92054, seo 92058, seo 92109, seo 92059, seo 91962, seo 91963, seo 91990, seo 92065, seo 92128, seo 92075, seo 91976, seo 92082, seo 92083, seo 92085, seo 92086, seo 92066, seo 92086, seo 92101, seo 92021, seo 92029, seo 92178, seo 92092, seo 92093, seo 92111